The medical billing ecosystem is riddled with inefficiencies, mostly due to the fact that most physicians still use paper rounding sheets. While many healthcare executives and physicians understand the importance of charge capture, most have not taken any steps to improve it. With the right technology, you have the power to completely reimagine the process.
Capturing medical charges has evolved in the past decade, but there are still some improvements that can be made. Let's look at what a typical medical billing workflow looks like:
Physician sees the patient. 

Post-visit, physicians enter in charges on rounding sheets or via their EMR. If using rounding sheets, doctors may forget them or misplace them, adding days or weeks to the process. 

Lack of consistency and archaic processes leads to missed charges and human error. 

Billers finally receive rounding sheets. 

Billers must key in each claim, taking approximately three to five days. 

Payment may take up to 80 days. Further delays may occur if any errors are made that could cause

claim denials.
Does this workflow sound familiar? It's the only way many physicians have ever known to capture charges. With so many lags along the way, too much time is wasted, endangering cash flow.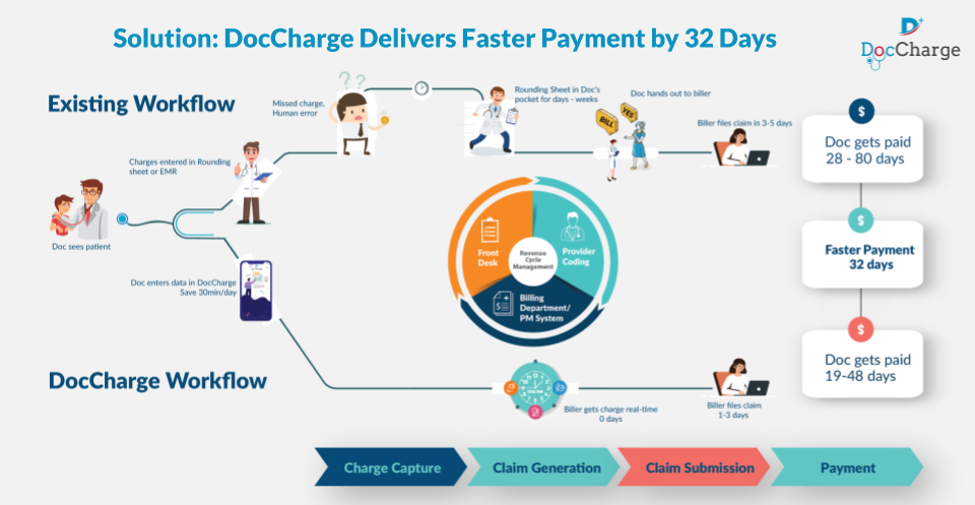 We set out to reinvent the system to ensure physicians save time and increase revenues. The DocCharge workflow works like this:
Doctor sees the patient.

Doctor enters data in DocCharge—saving on average 30 minutes a day. Plus, the most up-to-date codes are already available, reducing the human error factor.

Biller receives charges in real-time. 

Biller files claim within one to three days.

Payments arrive within 19 to 48 days, about 32 days faster than legacy processes.
Physicians love the ease and simplicity of DocCharge mobile charge capture. It's easily accessible on any mobile device and literally takes only minutes to learn. Our users have informed us it's completely transformed the way their practice operates. 
It's time to ditch the paper or other cumbersome charge capture platforms and try out our technology. You can get started now with a free account.